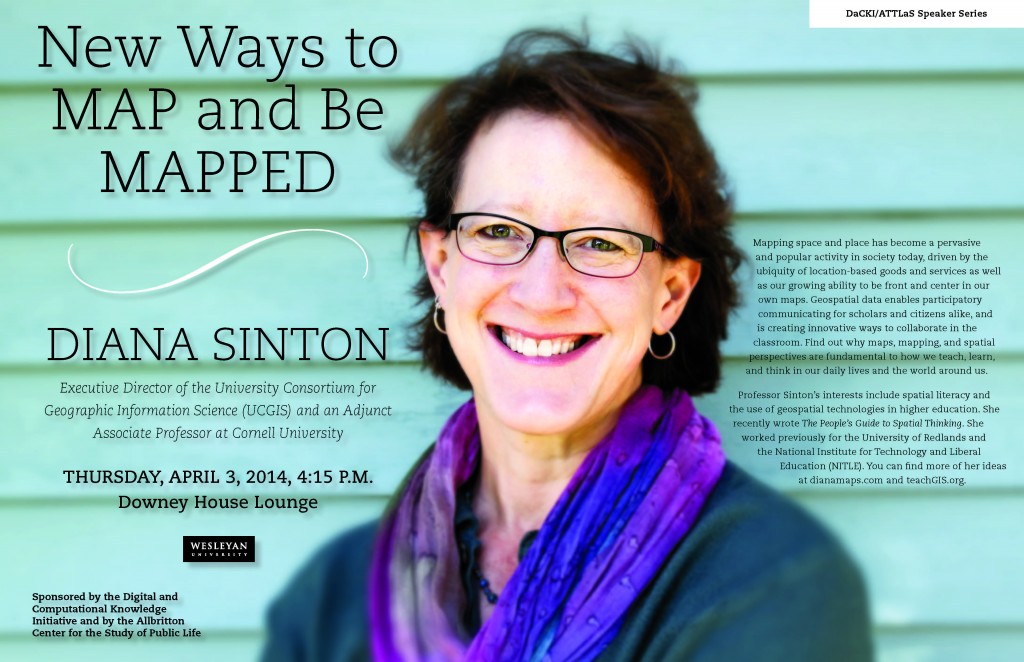 Mapping space and place has become a pervasive and popular activity in society today, driven by the ubiquity of location-based goods and services as well as our growing ability to be front and center in our own maps. Geospatial data enables participatory communicating for scholars and citizens alike, and is creating innovative ways to collaborate in the classroom. Find out why maps, mapping, and spatial perspectives are fundamental to how we teach, learn, and think in our daily lives and the world around us.
seminar: New Ways to Map and Be Mapped

presenter: Diana Sinton

location: Downey House Lounge
date: Thursday April 3
time: 4:15 pm
Diana S. Sinton is one of the most influential proponents of GIS and spatial literacy in the liberal arts. She is currently the Executive Director of the University Consortium for Geographic Information Science (UCGIS), and an adjunct associate professor at Cornell University. She recently wrote The People's Guide to Spatial Thinking (NCGE, 2013). She worked previously for the University of Redlands and the National Institute for Technology & Liberal Education (NITLE). Her interests include spatial literacy and the use of geospatial technologies in higher education. You can find more of her ideas at dianamaps.com and teachGIS.org.
This event is sponsored and supported by DaCKI, ATTLaS, and an Allbrittion Center for the Study of Public Life Collaborative Grant.